❗In accordance with the new version of Decree No. 121 of the Government of St. Petersburg, from October 30, 2021, until the restrictions are lifted, when visiting the theater, it is necessary to present a negative result of a PCR test taken no later than 24 HOURS BEFORE THE START OF THE PERFORMANCE.
X
CENTRAL THEATER TICKET AGENCY | ST.PETERSBURG, RUSSIA
Faust (Saint-Petersburg Opera Theatre, opera)
​
about theatre
| Ticket price:
Tickets available by request
Genre:

Opera
|
Language: French
|
Age restriction: 18+
|
Length: 2 hours 50 minutes
|
Opening night: 27 May 2017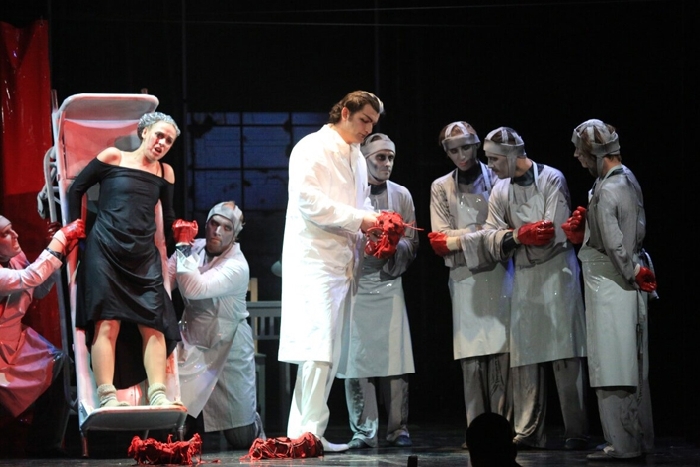 Artists
Conductor of the performance:Maxim Valkov
 
Faust: Denis Zakirov
Mephistopheles:Yuri Borshchev
Marguerite:Sofia Nekrasova
Siebel:Victoria Martemyanova
Valentin: Dmitry Udi
Marthe:Natalya Vorobyeva
Wagner:Anton Morozov

Credits
Music: Charles Gounod
Libretto: Jules Barbier
Michel Carré after Johann Wolfgang von Goethe's Faust, Part I
Production: Yuri Alexandrov
Conductor: Maxim Valkov
Set and Costume Designer: Vyacheslav Okunev
Lighting Designer: Irina Vtornikova
Directors: Tatyana Karpacheva
Natalia Chernikova
Darya Modzalevskaya
Musical Preparation: Yana Zubova
Chorus Master: Maria Gergel
Choreographer: Nadezhda Kalinina
Video-art: Daniil Bakalin

Description
In its thirtieth, jubilee, season, The St. Petersburg Chamber Opera for the first time turned to the works by Charles Gounod. In his modern, expressive version of the classical opera director Yuri Alexandrov deals with the philosophical issues of being, the man's vocation, and the confrontation of hell and heaven, responding vividly and passionately to today's world events. Yuri Alexandrov about the production of Faust: "Over the past decades we have witnessed a lot of attempts to zombify people. Many world regimes have tried to subdue human mind and soul. This happened during the Communism period, and, to some extent, is happening now. Just look at today's information wars. People around the world are brainwashed in various ways. The invasion in human consciousness, the attempt to create a new Frankenstein - that's what I see in the story of Faust. Obviously, this topic is very urgent and very important for me, so we will analyze it scrupulously. Gounod composed great music, and we took care of it. We did change the sequence of scenes in our performance. But this does not mean that the cut down the performance. In my version we emphasize all personal experiences of the characters. However, we are not trying to impose new personal qualities on the characters, we stick to the original."